Industrial marquee
Locabri's classic range of industrial marquees can be adapted to all your storage needs – packaging, raw materials, spare parts, etc. – stockrooms and ancillary facilities for mass distribution. The marquees are modular and can be moved as required with adjustable levels of equipment.
Main features
Available for rental or purchase, Locabri marquees allow you to quickly increase your storage area, provide shelter for your loading areas or even manage periods of building work.

Availability of equipment: the marquees are delivered turnkey in less than 20 days.

Modularity: you can modify your marquee as your needs evolve.

Your rent is always in line with your level of business activity.

These industrial marquees comply with the current legislation: labour code and building standards.
Advantages

Industrial marquee
It is installed directly on your site. It is fully modular and removable: tailor-made and scalable surface area, numerous layout and equipment options. Construction is fast, the building site is tidy and has no impact on your business.
The equipment is permanently in stock and can be delivered turnkey in 15 days.
Your rent is always in line with your level of business activity.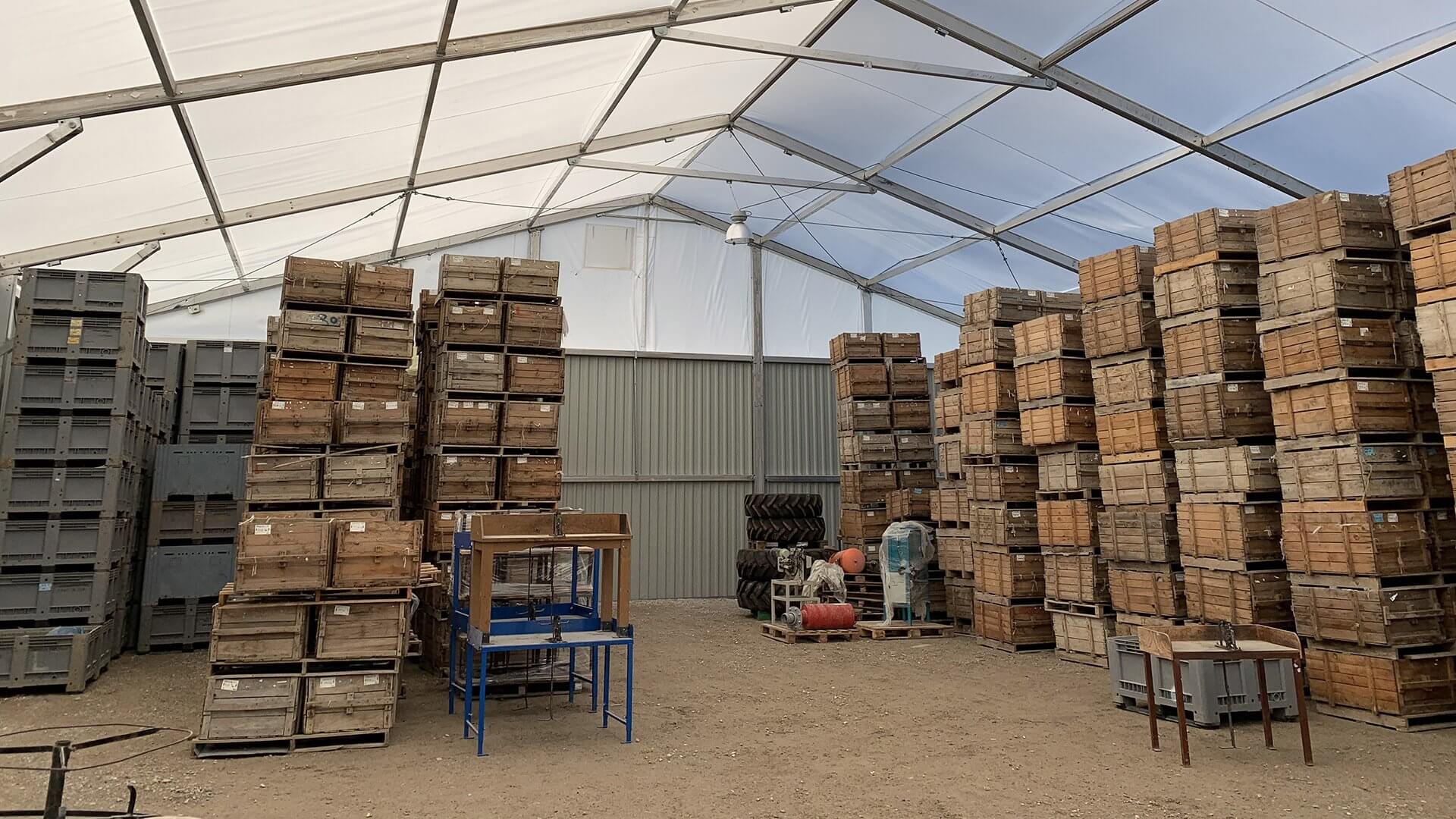 Technicals specifications

Industrial marquee
Span: 5 to 20 metres
Length: in multiples of 5 metres
Side height: 3 to 5 metres
Ridge height: 3.50 to 9 metres
Ground anchoring : plates fixed by piles or concrete plugs
Frame: aluminium profile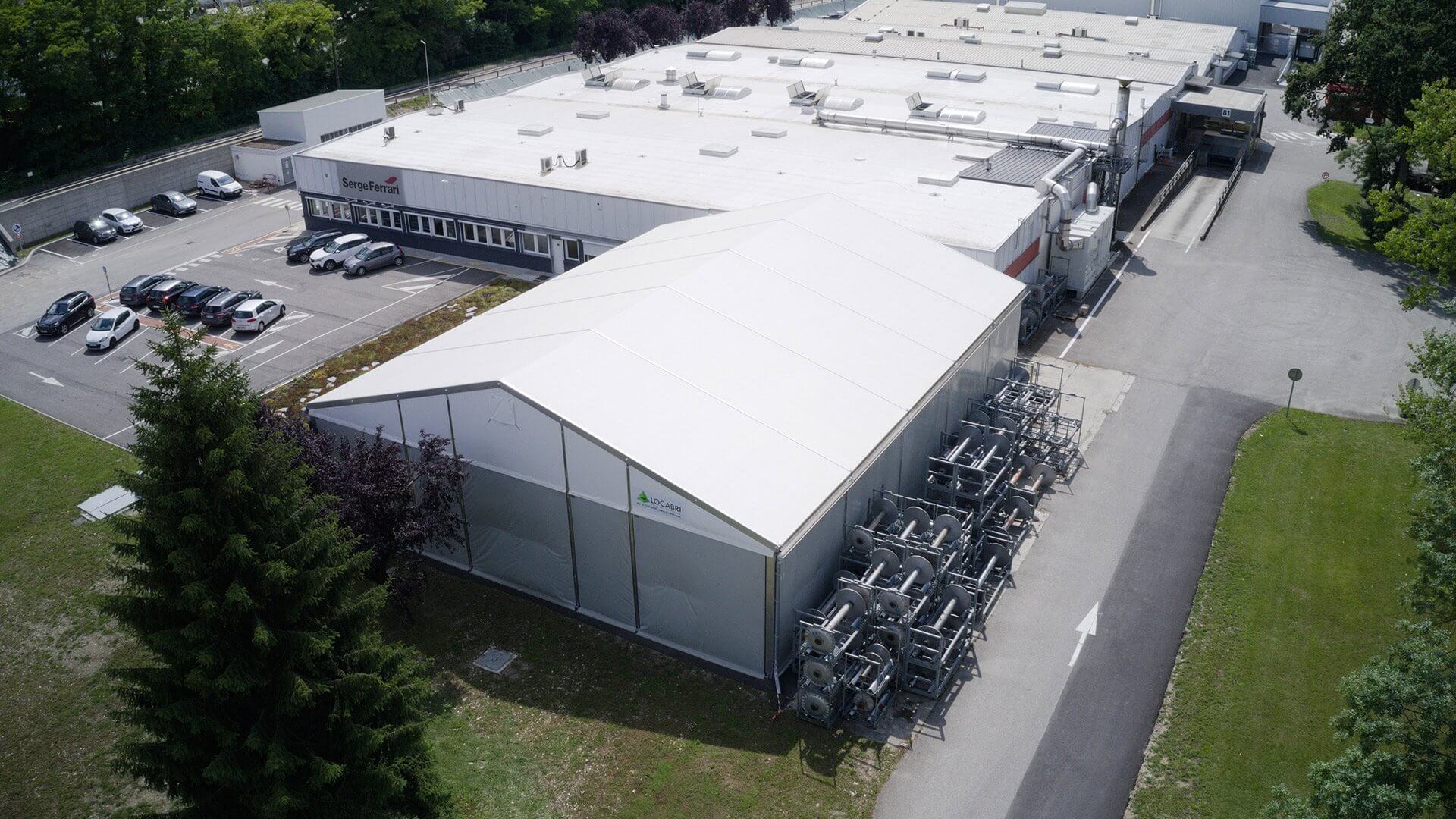 One-piece roof:
Flexible PVC composite on 620g/m² polyester support translucent white colour
Anti-UV, anti-cripto, anti-dust, double-sided coating
Fire resistance category M2 (low flammability). Roof-edge tension bars
Choice of lighting
LED
Chandelier
Néon
Security unit
Depending on the use of the marquee and current regulations
External wall
Canvas
PVC composite on 590g/m² polyester, solid colour or striped.
Anti-UV, anti-cripto, anti-dust, double-sided coating.
Fire resistance category M2 (low flammability).
Steel sheeting:
Galvanised painted grey
Mock gable tip in flexible PVC composite fabric on white 650 g/m² polyester.
Equipment
A wide range of equipment can be added on to this standard offer, such as: insulated walls, transparent cladding, goods openings, heating, etc. Discover the most frequently used items when the marquee is used for storage. You can request specific equipment according to your needs.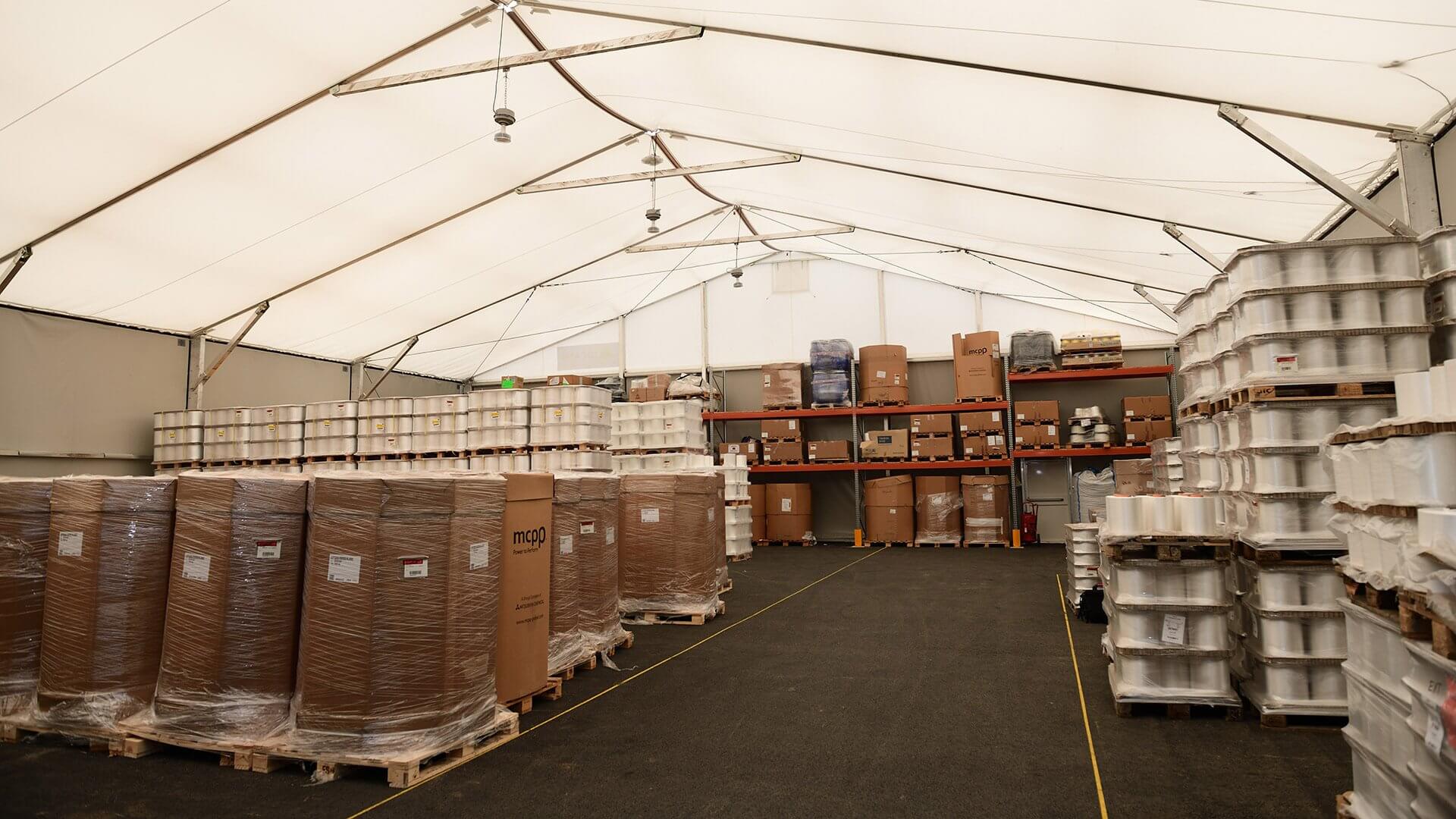 Double canvas roof
The double roof is fitted into the lower groove of the crossbar. This second skin, manufactured by the company Serge Ferrari (402), provides highly effective protection against condensation.
The double roof reduces the thermal load in the marquee.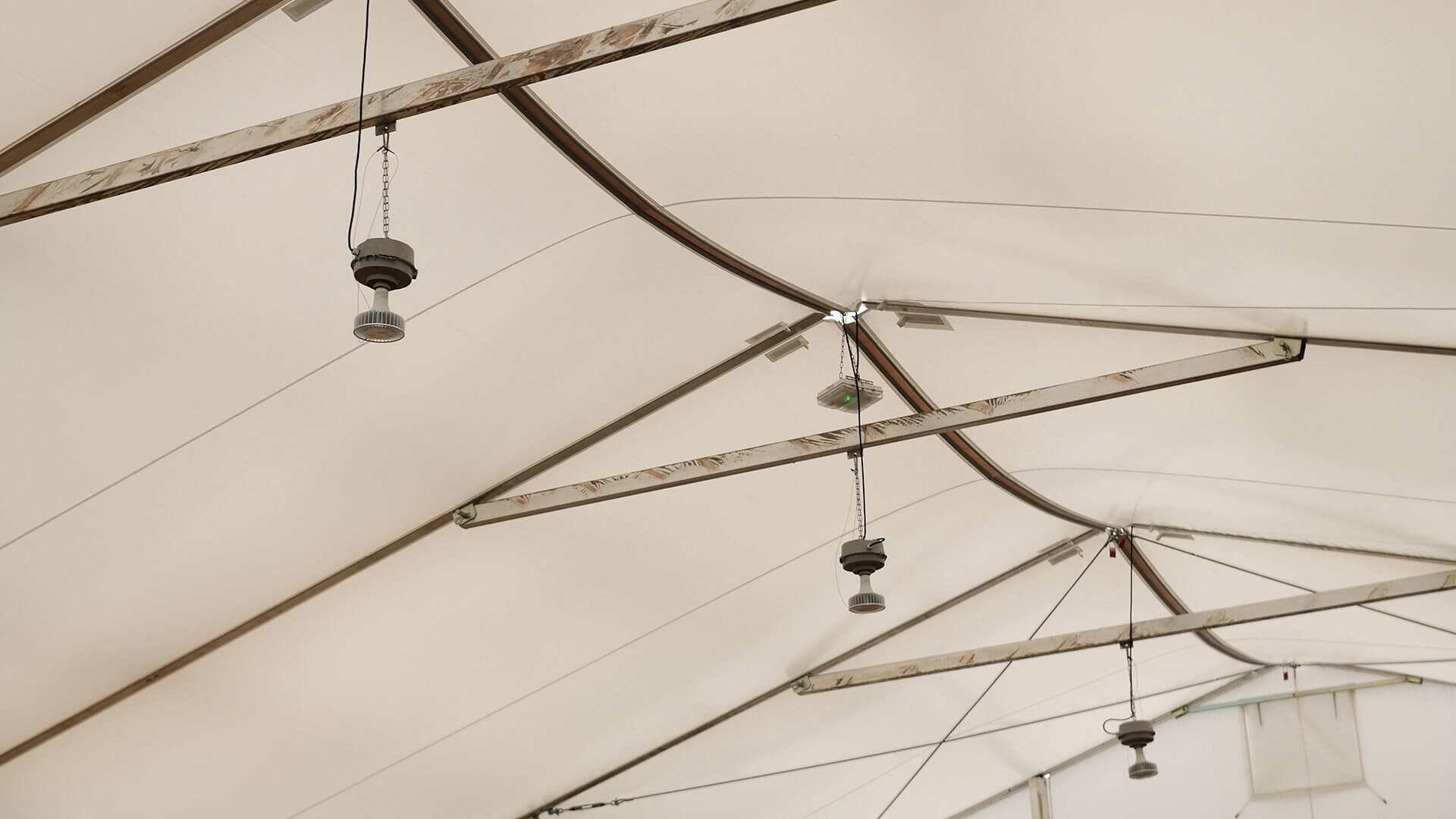 Adaptable lighting
Depending on the activity carried out in the marquee – staff permanently inside the marquee or only passing through – the lighting can be adapted to your needs, allowing you to consume only what you need in terms of energy: ambient, industrial and security lighting.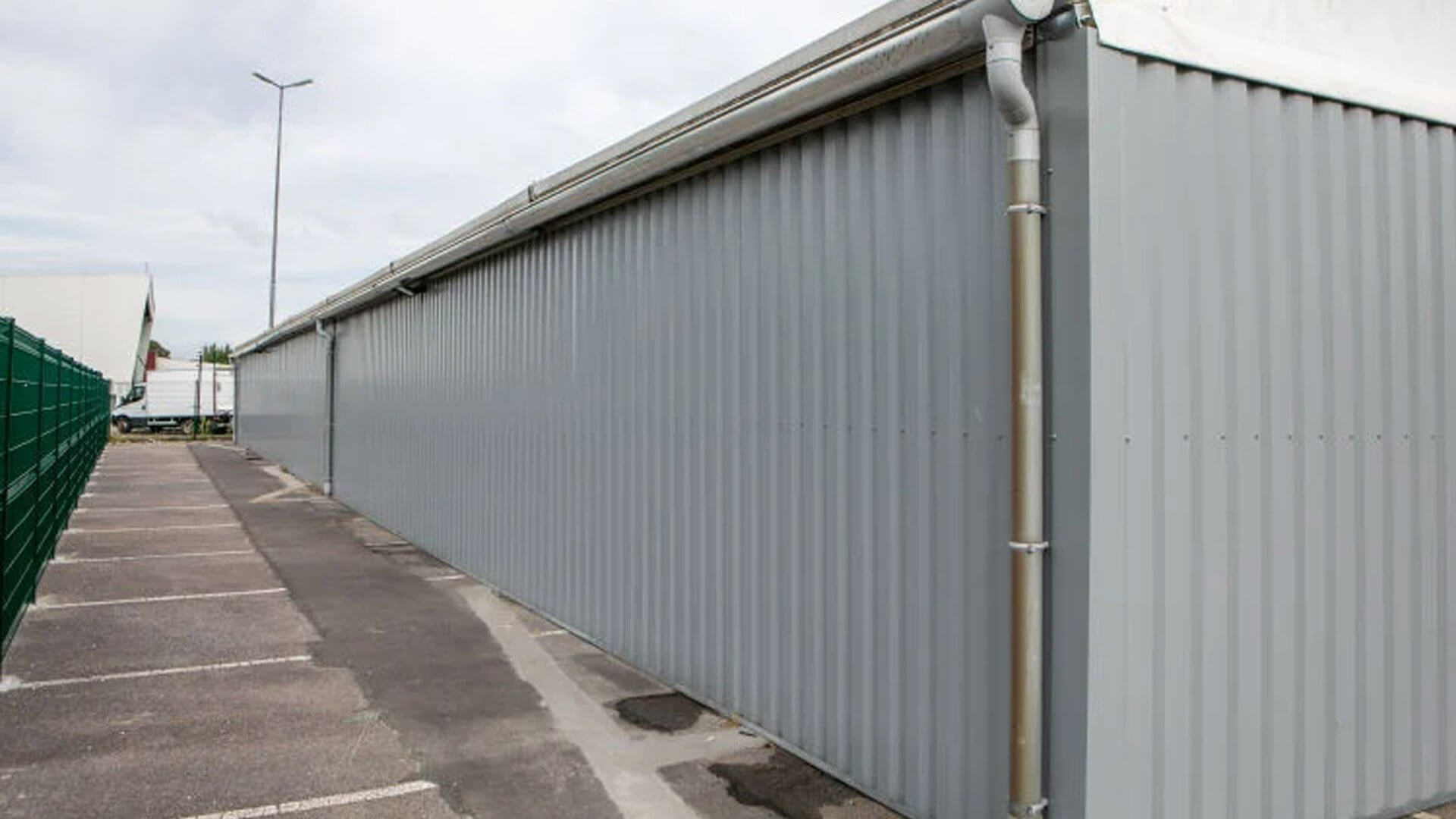 Water recovery
With a continual concern for the environment and for staff well-being, the storage warehouses can collect water from above and at ground level: guttering, junction valleys, drip trays, etc. This equipment makes the modular structure watertight.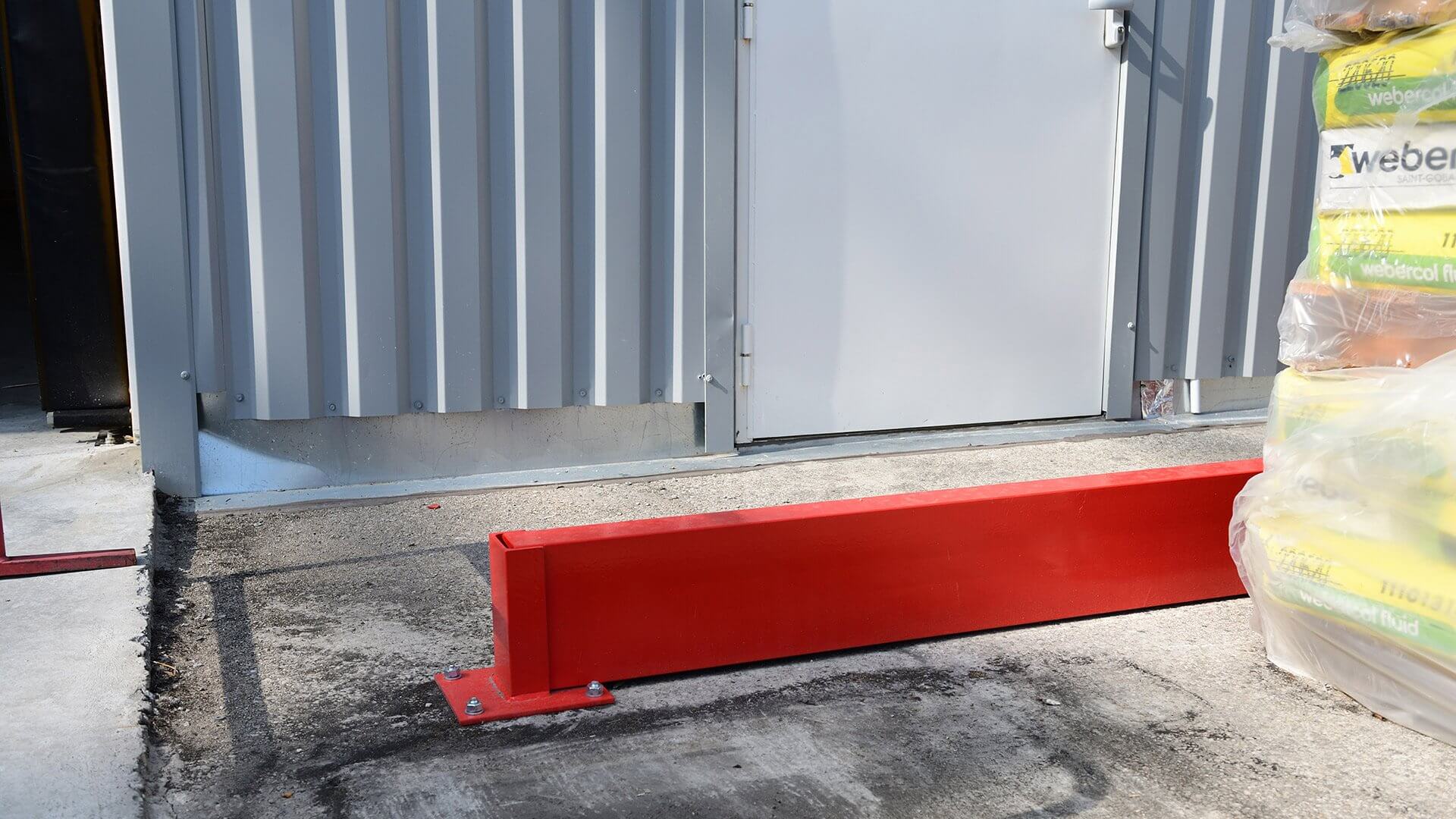 Protection of walls and poles
In storage areas, the coming and going of handling equipment sometimes brings risks associated with collision with the building! To avoid these inconveniences, Locabri offers cladding protectors positioned at the bottom of the wall at a distance agreed with you, as well as pole protectors. This equipment is an essential safety component.
Ask for a quote
At Locabri, we are here to support you in your choices and at all stages of your project
These products may be of interest to you
To meet your challenges, Locabri can provide you with secure, high-quality structures, taking into account your safety constraints.