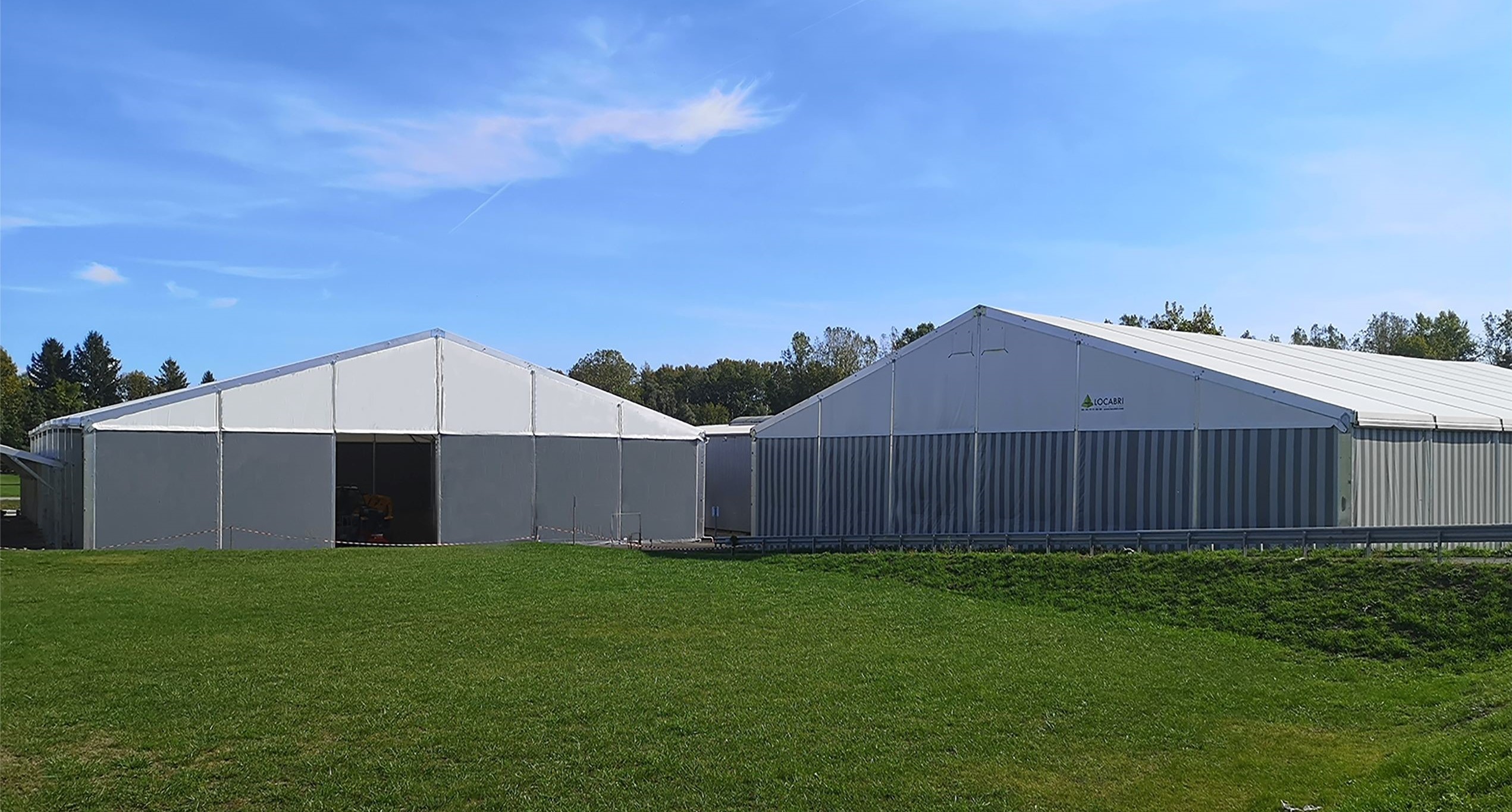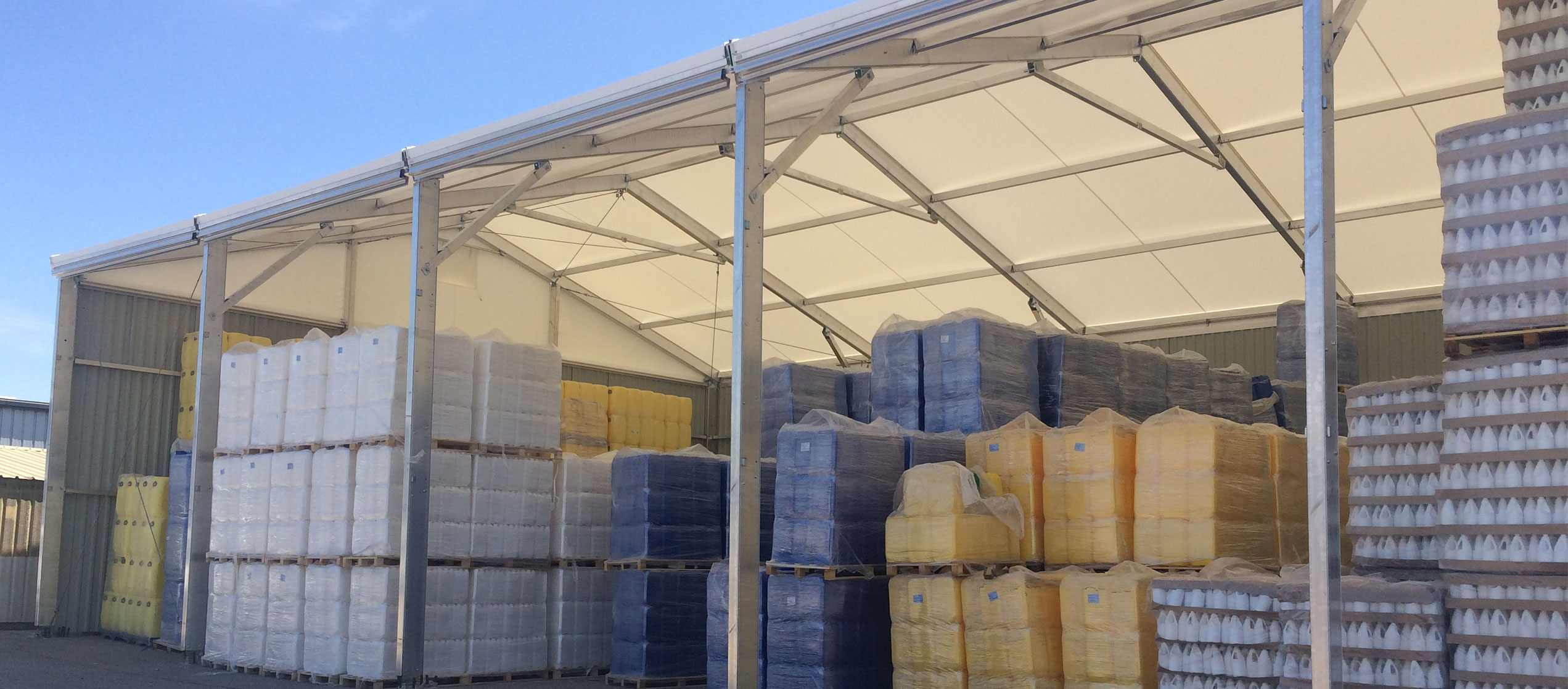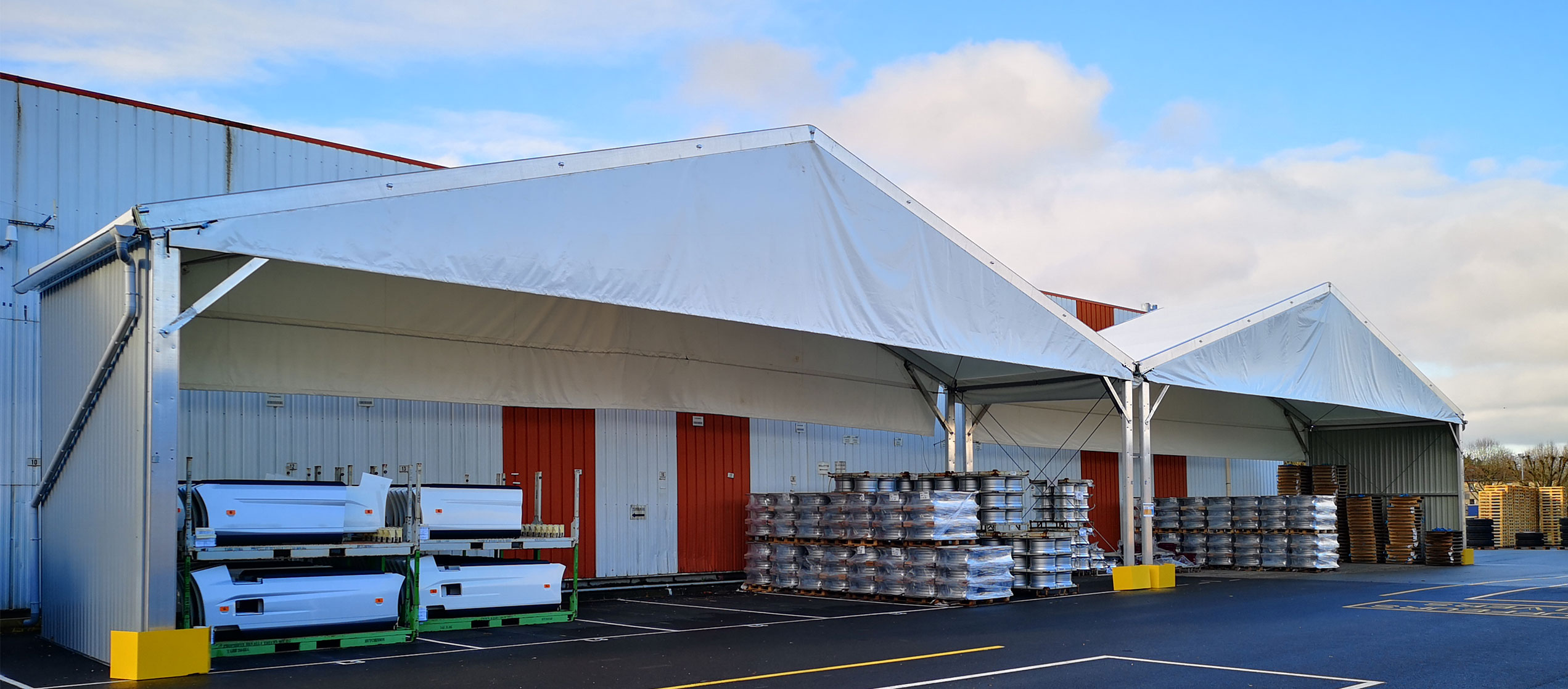 Industrial awnings and tents
Our standard offer
Quickly create additional storage spaces
Available for all industrial, mass distribution and community needs
Scalable, moveable and cost-effective for maximum storage volume
The advantages of the offer

Speed
The assembly time is short. Availability of equipment: the marquees are delivered turnkey in less than 20 days.

Flexibility
You can transform and evolve your industrial tent as your development evolves.

Economics
Your rent is always in line with your level of activity and the use of the equipment is adapted to your needs.

Eco-designed
The construction uses the minimum amount of material.
Industrial Awnings
Areas of usage
The uses of awnings are manifold and encompass all sectors of activity. This structure was designed to meet your needs for ad hoc extensions for storage, during a period of renovation work, a change in activity or following an incident.
Outdoor storage
Pallets, packaging, materials or products: either fully open or partially closed off.
Loading or unloading area
ZRM for merchants, buffer zones, and cross docking are frequently employed.
Recovery and recycling area
To accommodate your workers to sort waste, handling equipment or high dumpsters. Locabri canopies are installed on concrete blocks or walls to provide you with the best operating potential.
For communities
Locabri awnings can be adapted for use in courtyards by local authorities: for accommodating pupils or members of the public during periods of building work.
The advantages of industrial awnings and marquees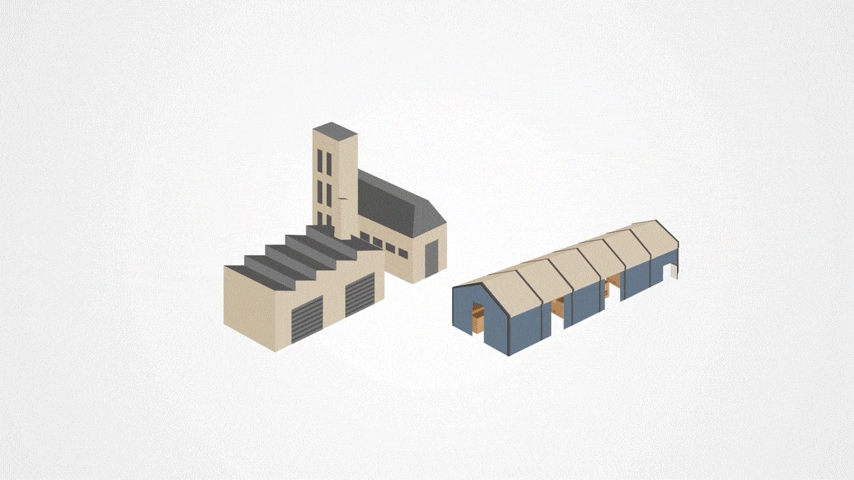 No foundations: they are built on compacted soil.
The awnings can be installed individually, attached to an existing building, or even linked together.
Their construction method means quick delivery and assembly.
They comply with the EF/NF 13782 standard and with standards applicable in the building industry.
Awnings and industrial marquees
Technical specifications
Coverage :

from 5 to 20 metres
Length :

in multiples of 5 metres
Wall plate height :

from 3 to 5 metres
Roofing height :

from 3.50 to 9 metres
Anchorage to the ground :

plates fixed by concrete piles or pegs
Framework :

aluminium or steel profile
Roof
Proposed lighting
Periphery
Openings
Roof
Roof
Flexible PVC composite on 620g/m² polyester support translucent white colour
Anti-UV, anti-crypto, anti-dust, double-sided coating
M2 Fire resistance. Roof-edge tension bars
Proposed lighting
Proposed lighting
LED
Chandelier
Neon
Safety block
Depending on the use of the marquee and the regulations in force.
Periphery
Periphery
Canvas
PVC composite on 590g/m² polyester, solid colour or striped.
Anti-UV, anti-cripto, anti-dust, double-sided coating.
M2 fire resistance.
Steel tray
Grey galvanised lacquer
False gable end in flexible PVC composite fabric on white 650 g/m² polyester.
Openings
Openings
Pedestrians
Door or panic door,
Single or double leaf,
Automatic glass door
Material handling equipment and trucks
Lift-up canvas panel
Sliding fabric curtain
Double-leaf sliding gate
Locabri's teams will support you in setting up your awning.
At Locabri, we offer this service for all our modular dismountable buildings.
The installation of the industrial marquee is carried out directly on your site
It is fully modular and dismountable: tailor-made and scalable surface area, numerous layout and equipment options.
Assembly is fast

The installation site is clean and does not have an impact on your business.
A rental price adapted to your growth
When opting for rental, the amount of the rent is in line with your level of activity.
Additional equipment
You can add specific equipment depending on your need, whether it is short- or long-term.
Pole protection
Awning
The coming and going of handling equipment in storage areas can occasionally increase the risk of a collision with the building! In order to avoid such inconveniences, Locabri offers pole protectors that surround the poles. This equipment is an essential safety component.
Rainwater collection
Awning
We can install a twinned channel to collect rainwater if you link your commercial awning to your building. This prevents runoff along the buildings.
Double canvas roof
Marquee
The double roof is fitted into the lower groove of the crossbar. This second skin, manufactured by the company Serge Ferrari (402), provides highly effective protection against condensation.
The double roof reduces the thermal load in the marquee.
Adaptable lighting
Marquee
Depending on the activity carried out under the marquee: permanent staff under the marquee or only passing through, the lighting is adaptable. This makes it possible to consume just what is needed in terms of energy with LEDs: ambient, industrial and safety lighting.
Water recovery
Marquee
With a continual concern for the environment and for staff well-being, the industrial marquees can collect water from above and at ground level: guttering, junction valleys, drip trays, etc. This equipment makes the modular structure watertight.
Protection of walls and poles
Marquee
Locabri offers cladding guards and post guards. This equipment is positioned at the bottom of the wall at a distance studied with you. These protections are an integral part of the safety of your industrial marquee.
Let's talk about your project