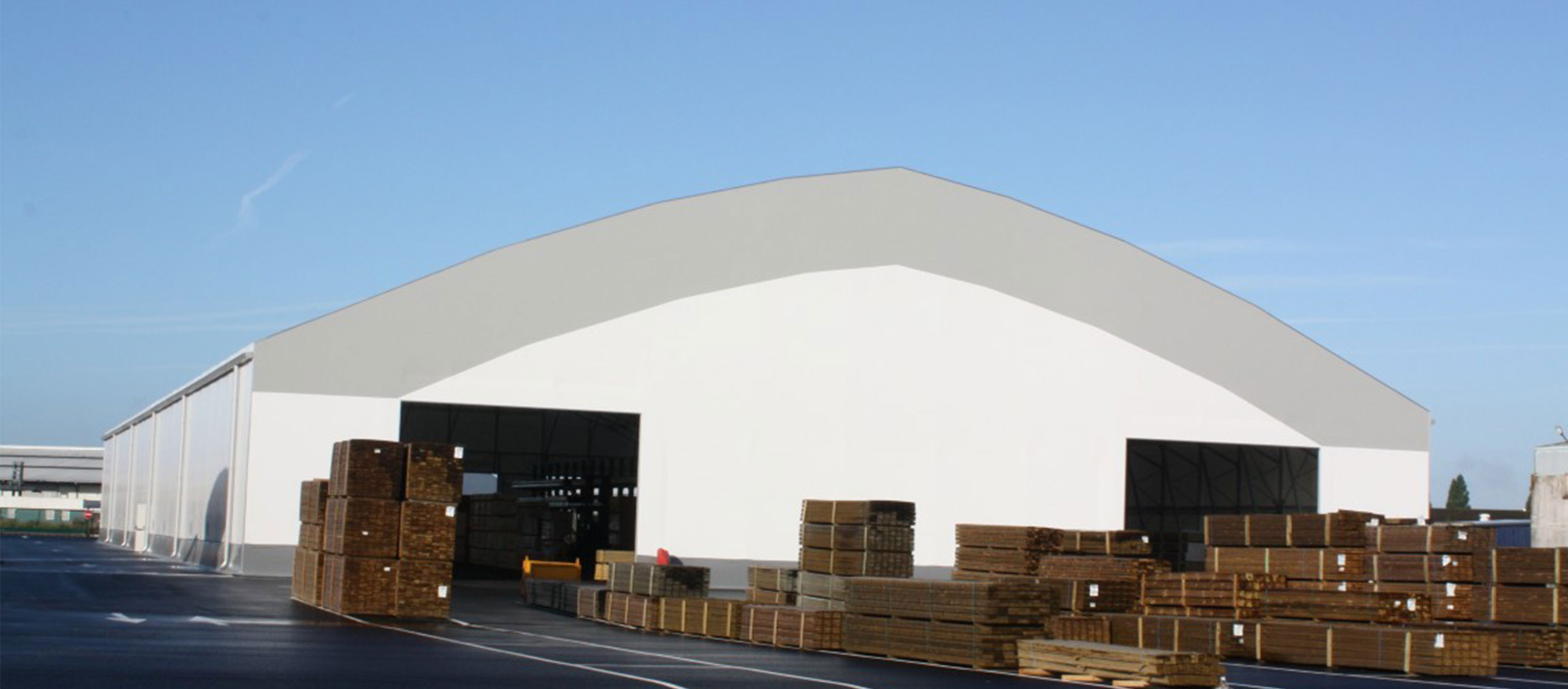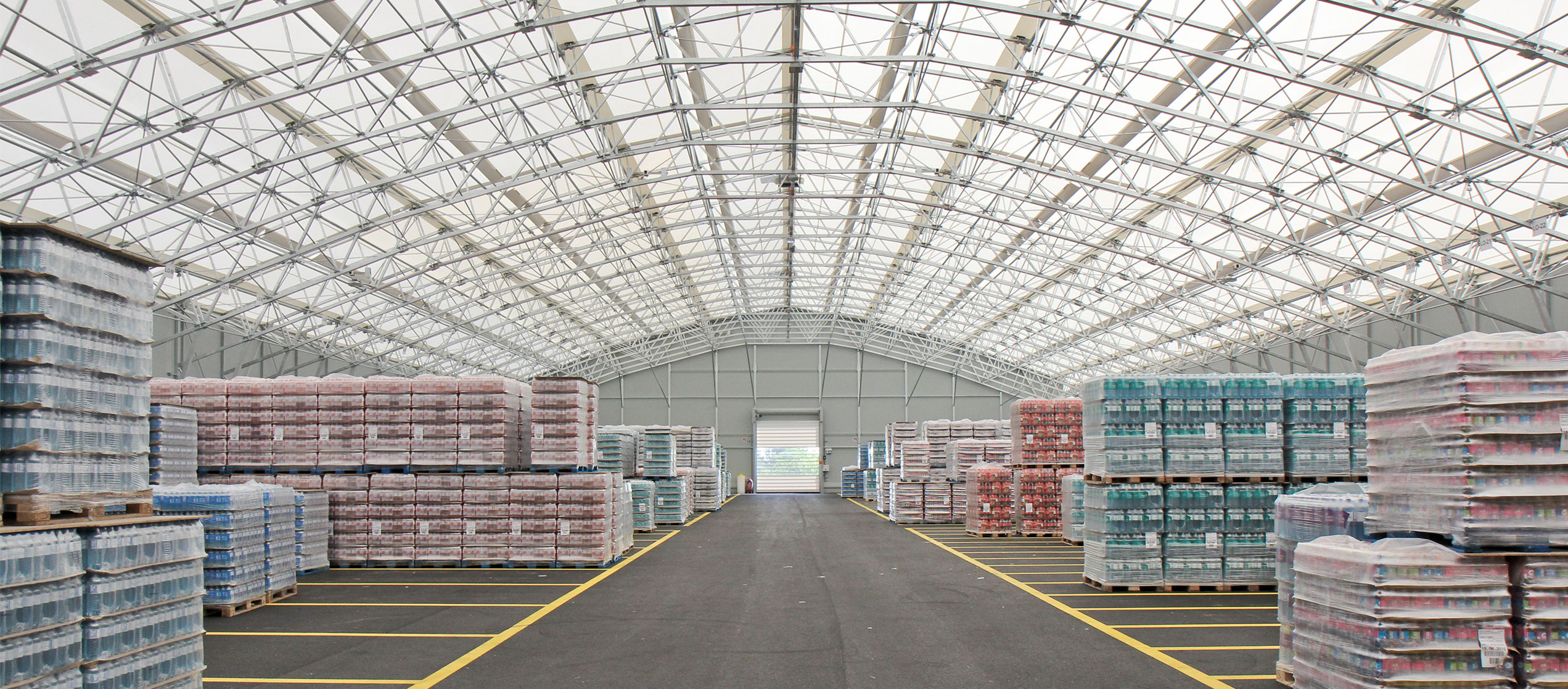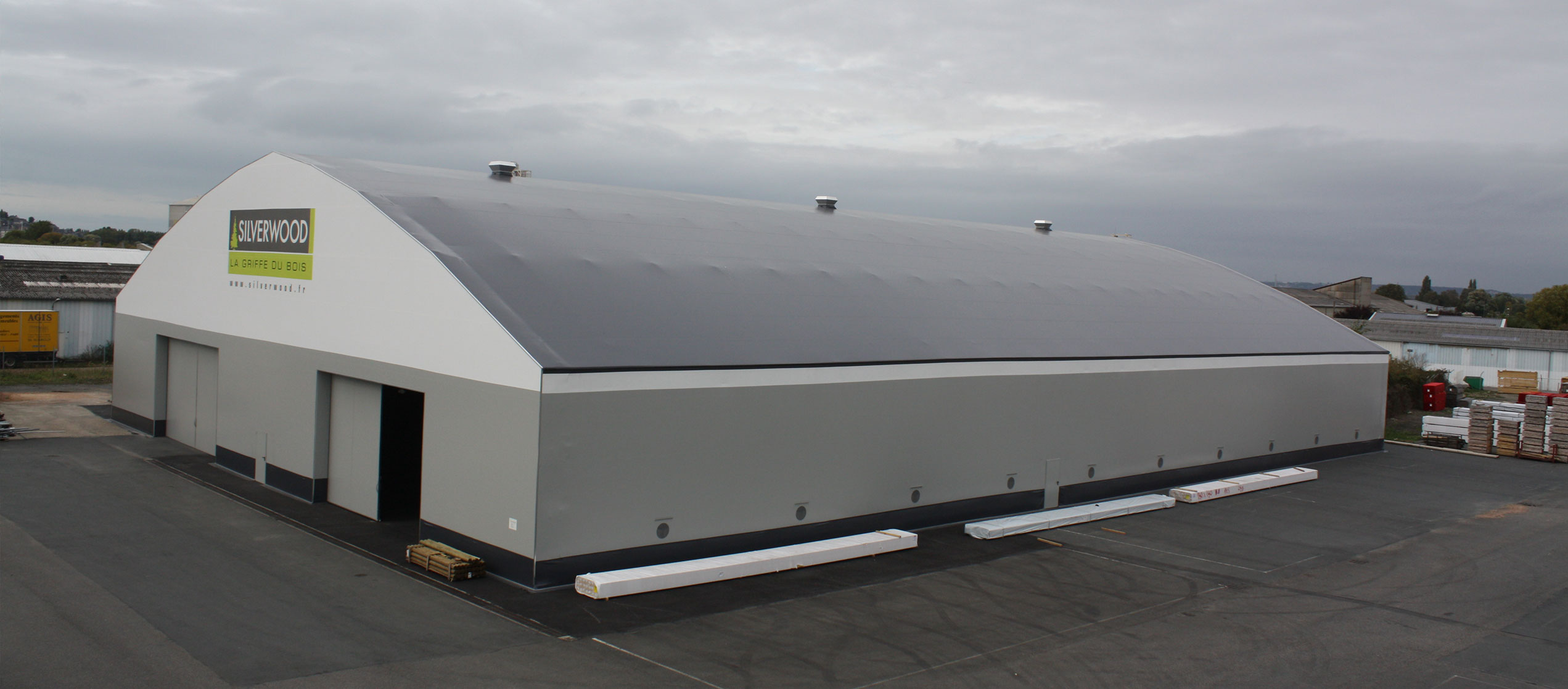 XXL Metal Textile Building
Large spans, high heights for maximum volume and a controlled budget
The robustness of a traditional building combined with the flexibility of a modular structure
Built to measure for a temporary or permanent installation evolving with your needs
The advantages of the offer

Speed
Your turnkey building in less than 6 months.

Economics
Excellent cost/m3 ratio

Eco-designed
The construction uses the minimum amount of material.

Durable
It adapts to changing needs.

Metal Textile Building XXL
Areas of usage
The XXL metal-textile building is a suitable solution for all storage needs at rack height and with a wide span and/or that environmental conditions require the installation of an extra resistant structure.
Industrial warehouses
Storage of high-added-value products, creation of production workshops, testing of new equipment and/or processes...
Wood and paper processing
The advantages of the XXL metal-textile building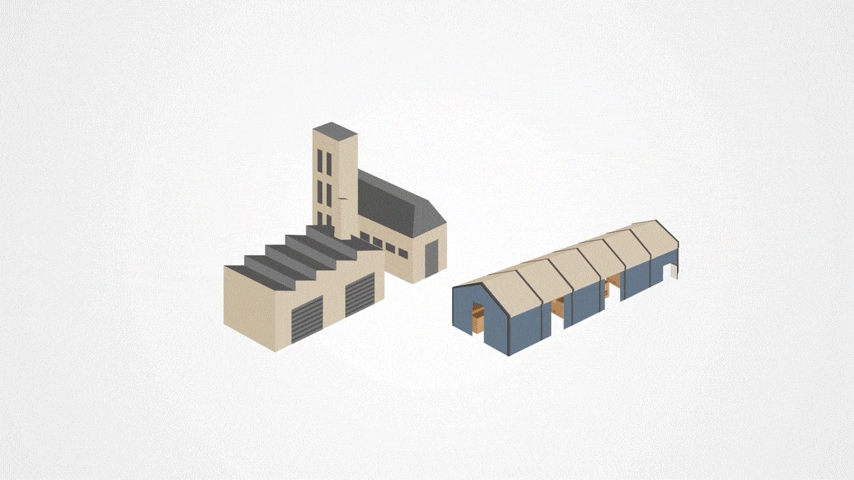 An economical and ecological alternative to the construction of a traditional warehouse: a Schwarzmann large-format metal-textile building.
Designed for extreme conditions (seaside or altitude).

Lhe proposed large heights and spans facilitate exploitation and optimise the surface area on the ground.

Each building is made to measure, optimising the surface area, volume and shape to adapt perfectly to the project.

The dimensions of the buildings are calculated according to the construction standards and the legislation specific to the location, as well as the field of activity.

Quality , an ISO 9001-certified company.
Large-size buildings
Technical specifications
Dimensions
Roof
Structure
Attachment system
Resistance
Multiple openings
Options on request
Dimensions
Dimensions
Width : up to 60 metres without intermediate post
Height
: over 12 metres
Surface area : from 1000 m²
Roof
Roof
Made of PVC-coated polyester
UV protection
Structure
Structure
Made of galvanized steel covered with a PVC membrane.
To reduce condensation and enhance insulation, a inner liner may be installed within the structure.
Attachment system
Attachment system
Metal pipes inserted into PVC pockets
Tensioned materials are fastened to the structure's walls and roof using threaded bars and perforated bands.
Resistance
Resistance
Tensioned membranes are able to withstand the pressures of wind and snow.
Multiple openings
Multiple openings
Doors and gates
Pedestrians
Engines
Trucks
Goods
Windows...
Options on request
Options on request
Basic and simple interior design
Printing the customer logo on the roof
Non-standard dimensions
With its extraordinary volume and geometry, the Schwarzmann range of buildings is perfectly suited to the requirements of logisticians and industrialists looking for high-performance storage solutions.
Designed for extreme conditions
Based in Austria and Slovenia, Schwarzmann has been designing, manufacturing and installing large-format metal-textile buildings throughout Europe for over 30 years.
Its geographical location and its very strong penetration of the Swiss and Austrian markets have forced it to push the limits of the constraints that the structure can withstand, linked to alpine snow loads, while guaranteeing impeccable quality adapted to the standards of its main customers.
Perfect finishes
Schwarzmann buildings are made using a galvanised steel lattice frame covered with a pre-stressed flexible Serge Ferrari composite membrane (leading French manufacturer of composite fabrics known for its stadium covers in particular) fully welded and bonded to the structure to form a one-piece roof.
A definitive installation in the same way as a conventional steel tray roof.

Offers a harmonious architecture adapted to industrial and logistics sites, enhancing the company's image.

Thanks to its translucency, the membrane offers natural lighting over the entire surface for better productivity, increased safety and better comfort for the operating staff.
Locabri's teams will support you in setting up your hangar
The implementation is controlled by Locabri, guaranteeing quality site monitoring and the ability to organise the supply of all the equipment necessary for proper operation: openers in all motorised and non-motorised formats, lighting, HVAC, etc.