Industrial Awning
This industrial or storage awning is ideal for quickly creating a loading/unloading space, temporary storage or even a recycling area. It is also used by supermarkets for click and collect spaces and by local authorities to store machinery or products such as salt. This space is the wall-less version of the other Locabri removable industrial buildings.
Main features
Available for rental or purchase, Locabri awnings allow you to quickly increase your storage area, provide shelter for your loading areas or even manage periods of building work.


Flexibility
Simplified access and flow of machinery.

Cost-effectiveness
The absence of a facade and a gable frame reduces the amount of material used.

Availability
Within 15 days, for rental or purchase.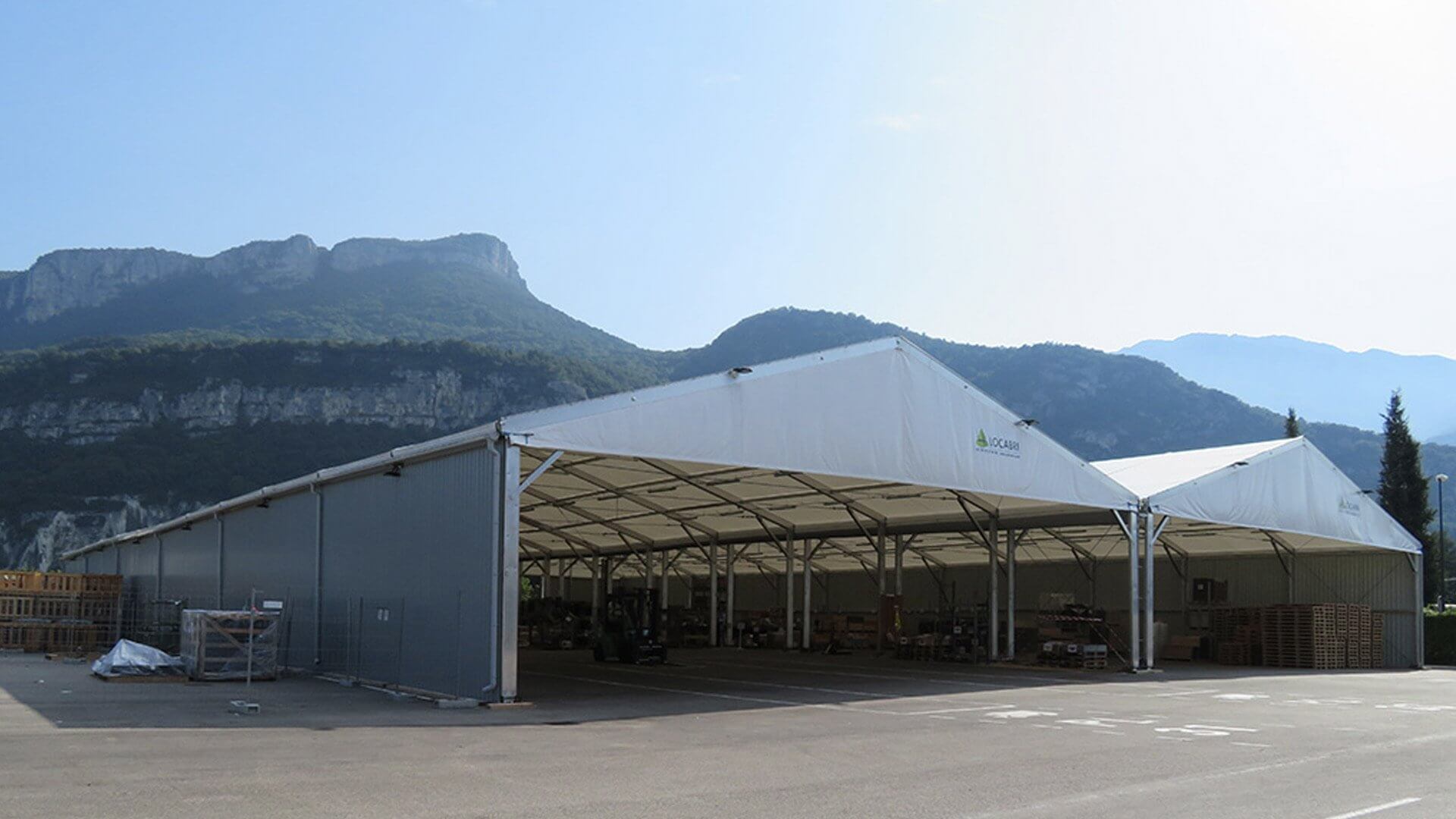 Uses

Industrial awnings
The uses of awnings are manifold and encompass all sectors of activity.
Outdoor storage: pallets, packaging, materials or products: either fully open or partially closed off.
Loading or unloading areas: often used for buffer zones or cross-docking areas, or for click and collect and pick-up areas by retailers.
Recovery and recycling areas: accommodate your workers for sorting waste, handling equipment or large skips. Locabri awnings are installed on concrete blocks or walls to bring you the best operating potential.
Locabri awnings can be adapted for use in courtyards by local authorities: for accommodating pupils or members of the public during periods of building work.
Advantages

Industrial awnings
No foundations: they are built on compacted soil.
The awnings can be installed individually, attached to an existing building, or even linked together.
Their construction method means quick delivery and assembly.
They comply with the EF/NF 13782 standard and with standards applicable in the building industry.
Just like any other removable modular building, Locabri will help you to set up your awning correctly.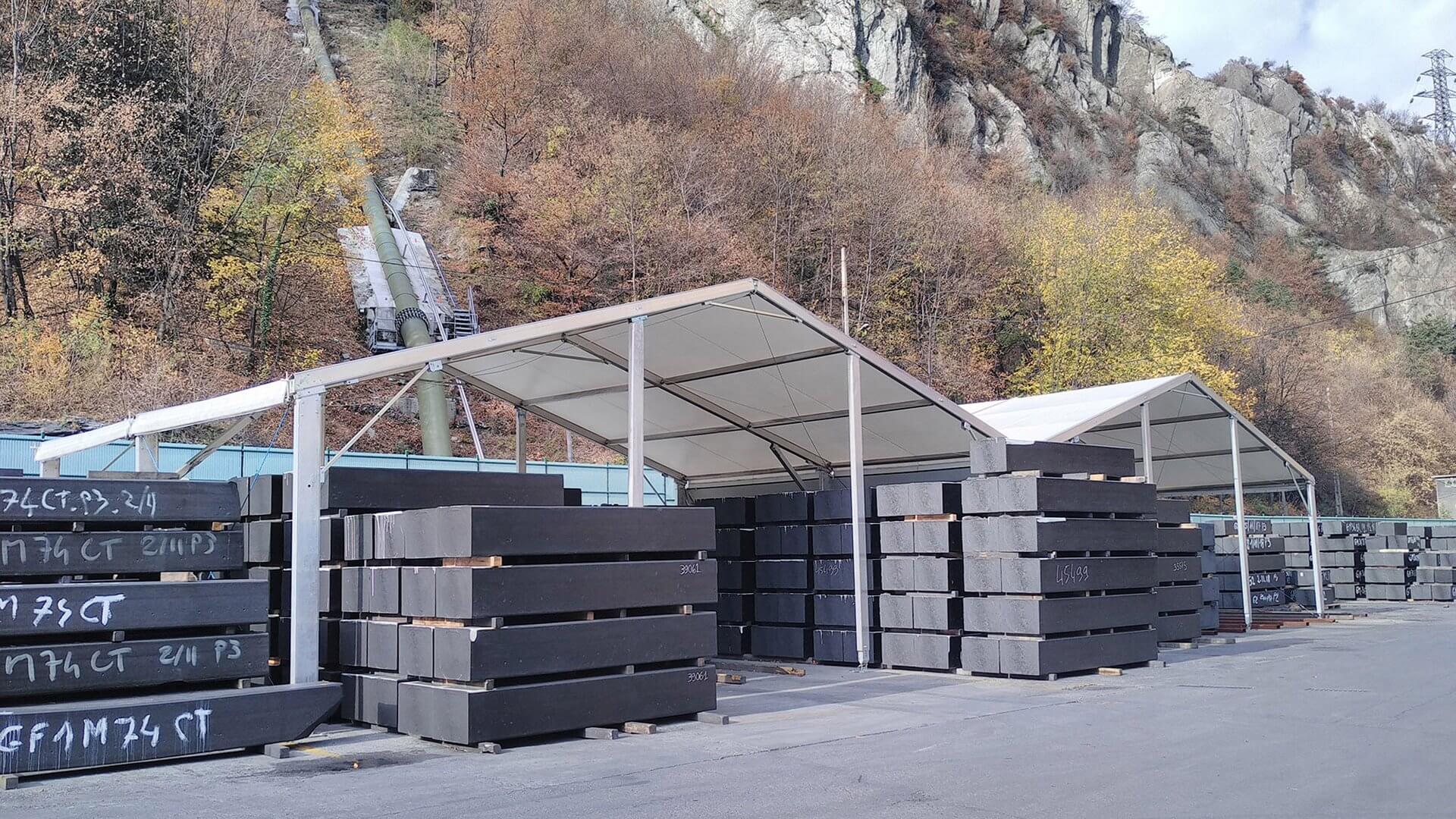 Technicals specifications

Industrial Awning
Span : 5 to 30 metres
Length : in multiples of 5 metres
Side height : 3 to 5 metres
Ridge height : 3.50 to 9 metres
Ground anchoring : plates fixed by piles or concrete plugs
Frame: aluminium or steel profile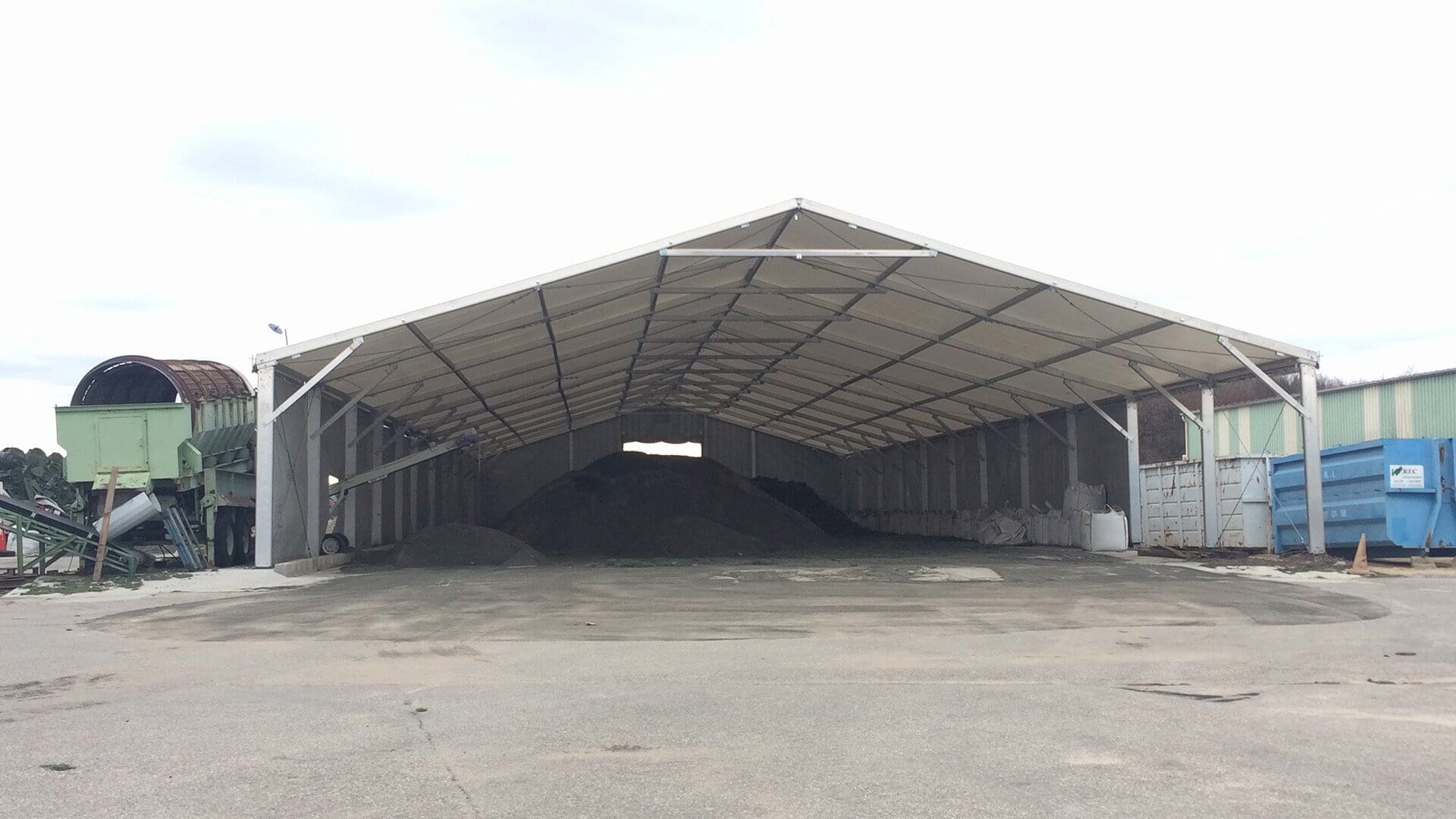 Toiture simpleOne-piece roof:
Flexible PVC composite on 620g/m² polyester support translucent white colour
Anti-UV, anti-cripto, anti-dust, double-sided coating
Fire resistance category M2 (low flammability). Roof-edge tension bars
External wall
Without: fully open
Canvas:
PVC composite on 590g/m² polyester, solid colour or striped.
Anti-UV, anti-cripto, anti-dust, double-sided coating.
Fire resistance category M2 (low flammability).
Steel sheeting:
Galvanised painted grey
Mock gable tip in flexible PVC composite fabric on white 650 g/m² polyester.
Equipment
Equipment can be added on to this standard offer, such as: pole protectors or connection to your existing building. You can request specific equipment according to your needs.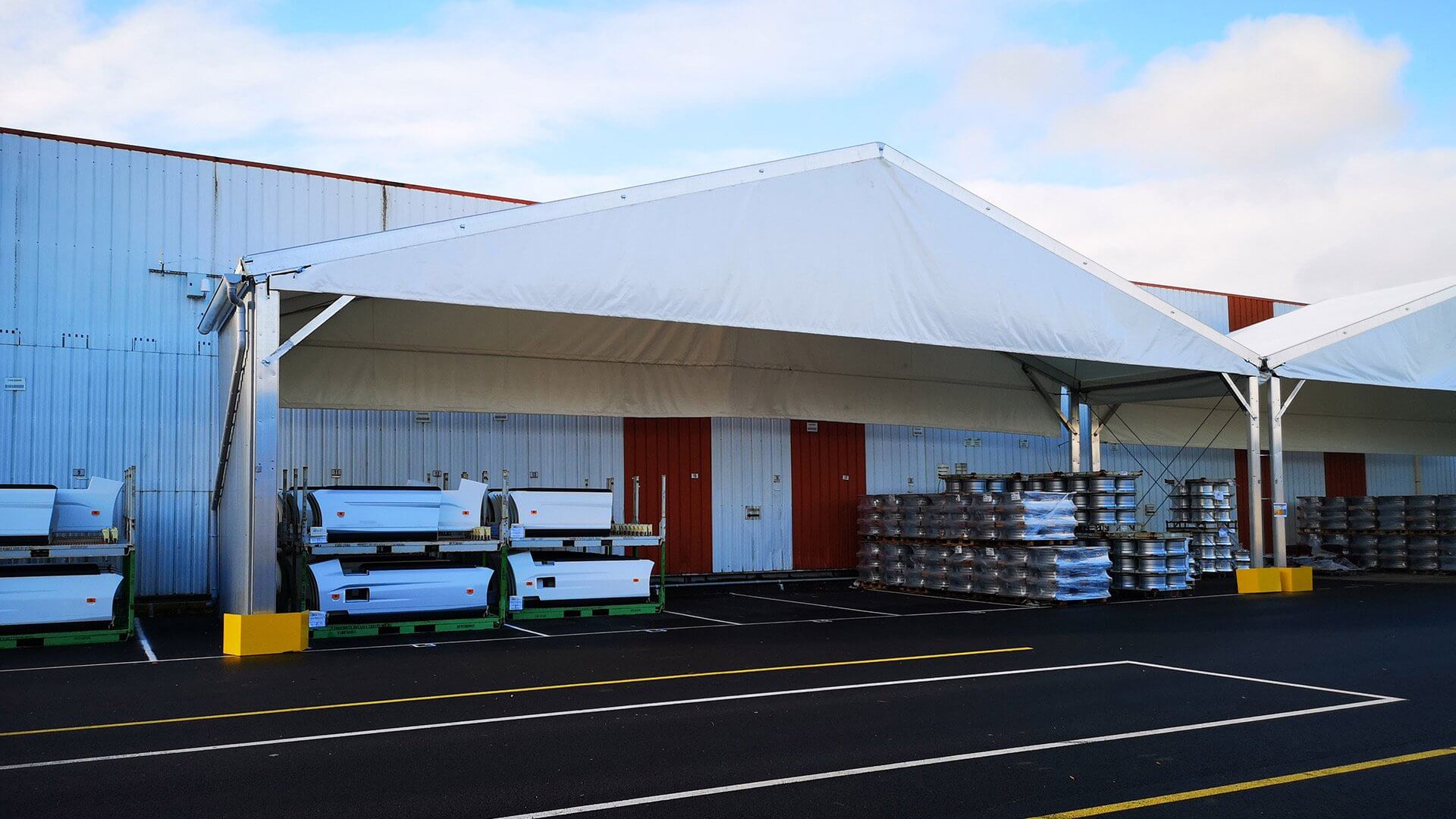 Pole protection
In storage areas, the coming and going of handling equipment sometimes brings risks associated with collision with the building! In order to avoid such inconveniences, Locabri offers pole protectors that surround the poles. This equipment is an essential safety component.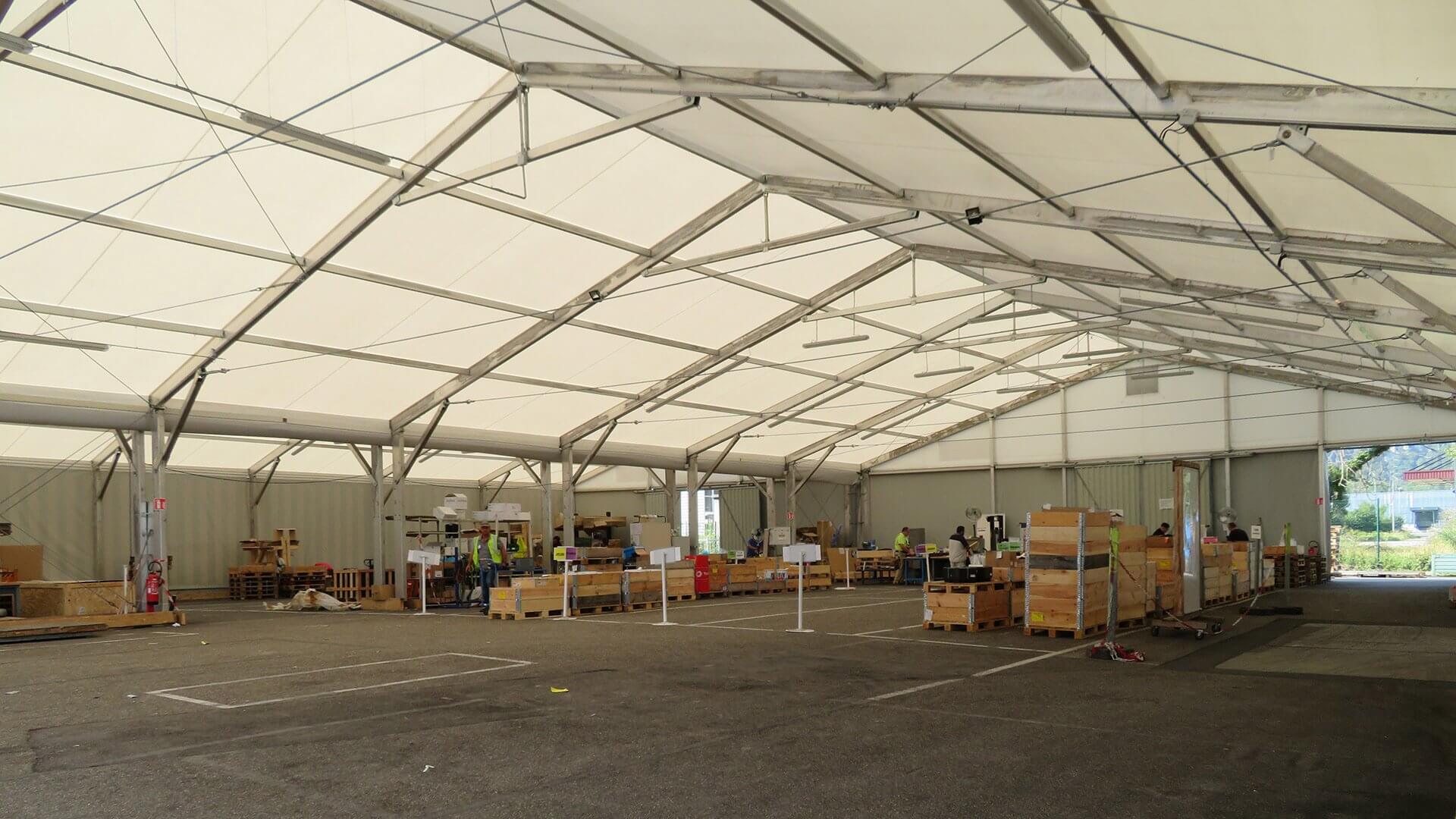 Water recovery
If you are attaching your industrial awning to your building, we can position a valley in the link to collect rainwater. This prevents runoff along the buildings.
Request a quote
The Locabri teams support you in your choices and at all stages of your project
These products may be of interest to you
To meet your challenges, Locabri can provide you with secure, high-quality structures, taking into account your safety constraints.